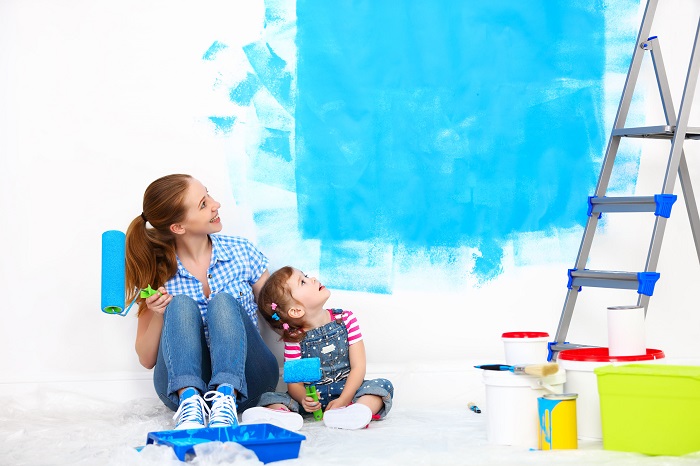 Choosing the right colour to paint the interior or exterior of your house can often seem quite tough with so many colours, shades and brands on offer. But picking the best fit for your home will be very important in both the long and short-term. There are several factors to take into account before making your final selection.
The main fear that people have is picking the wrong colour and repaint everything all over again. As we provide residential and commercial painting services in Sydney, we have worked with many clients who have faced this problem and found that by outlining some of the elements that will affect the way your paint looks can easily solve this problem. To help you avoid some of the biggest pitfalls of repainting, below is a list of key points to keep in mind – 
Choose The Lights Wisely
The different lighting you have in your home can vastly affect the way your paint looks on your walls. Bright red walls could look fantastic in natural sunlight but can feel claustrophobic with a dimmer lamp or ceiling light, conversely, a fantastic grey colour could end up too dark in an already dim room. To properly select the correct colour, bring a swatch into the room and see how it looks with the lighting there.
Keep The Colours Close
It's important to have a coherent look and feel to your house, rather than feeling like one room after another has a completely different mood. Consider how your paint will work with the other rooms of your house – how will it integrate with the colour scheme you have already implemented in other rooms.
Furniture Selection
Furniture is a huge part of creating the feeling of a room. But many of us make a big mistake not considering the type and colour of the furniture before painting the rooms. If you have big, dark pieces of furniture; it's often a good idea to opt for a light wall colour which will give the room more light. It will also make the room look more spacious.
What Colours Say About Your Room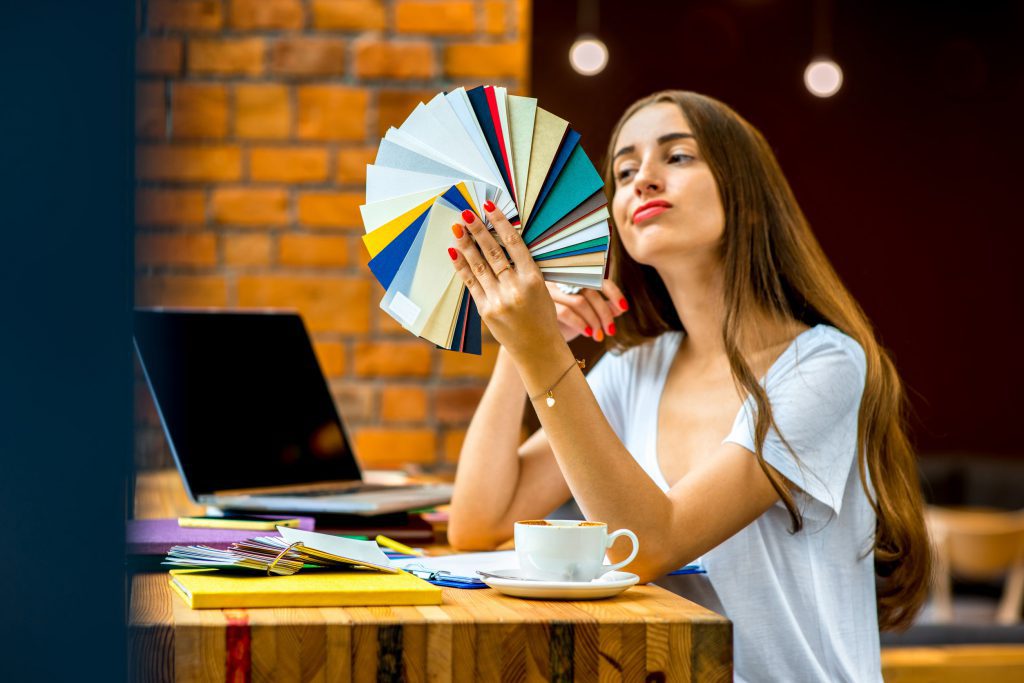 Everyone knows that white walls will create a feeling of more space in the room. Darker colours will give you the feeling of being in a smaller enclosed space. But it's also important to think about how other colours will make your room feel. Reds and pinks will lend warmth to the room while blues will give a calm, cool feeling. Greens are said to give a feeling of tranquillity and health while purples are relaxing and yellows are energising.
You are much more likely to end up with something you love if you keep these factors in mind. It's always a great idea to swatch a little bit of the colour on your wall and live with it for a time before you finally go ahead and paint the whole room. When in doubt, you can, of course, hire a professional who will be glad to guide you through the colour selection process.
Leave a comment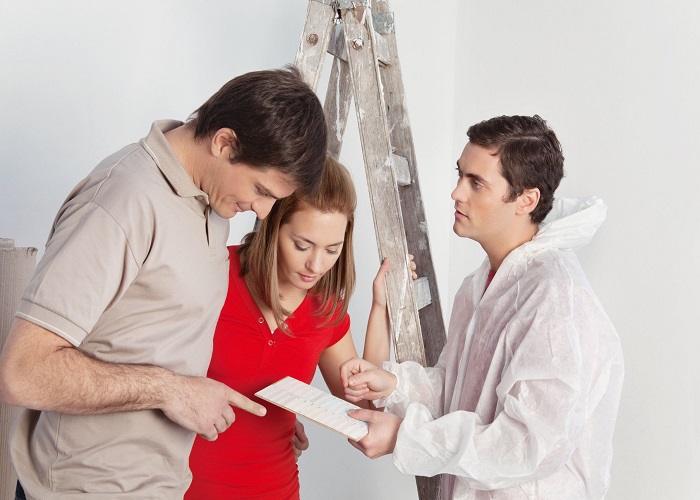 Like most trades services, there can be a big difference between providers. Some will be cheaper but perhaps provide a lower quality service, others will be pricey but are worth it if you have the budget. Others, unfortunately, strike out in terms of quality and price, meaning you simply don't get what you pay for. But if you are conscious of your budget, there are certain things you can try to help you save on the bottom line.
Preparation
A big part of painting is preparing the rooms, which does take up quite a bit of time. A poorly prepped paint job can be a waste of time and resources in many cases, so it's always important to carefully clean and make sure the surface is in a suitable state to have paint applied to it.
Often, the contractor will need to do some professional prep work regardless, but if you can handle some of it for them beforehand, you may find that you reduce your labour costs. Chat to the painter when they're quoting you and see if you can come to an agreement of some kind. If for example you are working with a paint maintenance provider on a monthly basis and you have a cleaner that is keeping the surface in the best possible condition all year around, the painter may not need to spend as much time prepping, thereby cutting their costs.
Providing paint and/or equipment
Again, this will depend on the kind of painting contractor you're working with. You'll find that some are particularly flexible ongoing commercial work if you are able to provide some of the tools, paints and primers. Painters will often charge a little more for sourcing this equipment and if you're saving them time you may be able to get the same work at a slightly lower rate. Keep in mind if you're working with a sole trader or smaller company, you may have more leverage in this discussion if they need to go out of their way to provide you with the equipment needed for the job.
On the other hand, some painters simply won't commit to a job unless they're painting with their own equipment and paint, mainly due to the warranty. Ultimately, it just comes down to being honest and talking it through with your provider.
Choose carefully
Particularly when it comes to commercial and strata painting projects, the best advice anyone can give you when it comes to saving money is ultimately to find a quality painter that's going to get the job done better than anyone else. Often, this will cost you more as an initial investment, but when you look ten years down the road, it's almost always the case that you would've spent less overall in upkeep.
This stresses how important it is to do your homework. Research painting contractors in Sydney online, check out other projects, ask for referrals and chat to their past clients. What awards has the company received? How long have they been in business? At the end of the day, saving money is about finding value. If you're looking for long term value for money, then proritising quality over all else should be your number one concern.
These considerations can help you save money in the long run when you're searching for a commercial painting contractor. It's also worth checking with friends and similar businesses to yours for referrals, which are often the way good value for money painters find work. For more information or to speak to a commercial painter you can trust, get in touch with Sydney's Priority Coatings today.  
Leave a comment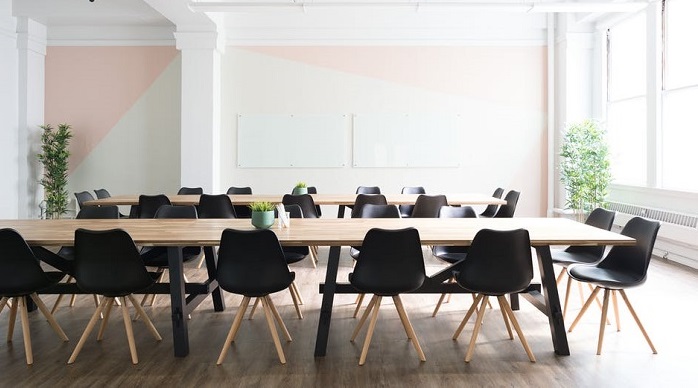 As most interior decorators will tell you, the commercial space that people work in can have a considerable effect on productivity. Employers are starting to recognise this and are more aware of decorative options than ever before. If you look at the offices of some of the biggest companies in the world, you'll see what we mean! Technological developments are changing our office and commercial workspaces, whether that be in terms of decorative features or the layout of the office itself.
In this article, we're having a look at some commercial fitout trends that are becoming popular in 2017 and beyond.
Use of Glass and Windows

An important trend that has been gaining traction over the past year or so is transparency in the office setting and the use of glass and windows to divide rooms. There are genuine benefits that come from the use of large windows, as they open the room up to a more natural light, which reduces the need for artificial lighting and makes the office more energy efficient. Using glass walls or windows to divide rooms enables any natural light to travel further and gives the office space a light, breezy and relaxed feel that is quite proving quite popular. It also creates a collaborative atmosphere and connects workers.
Energy Efficiency

As it is becoming more important to consider energy and the need to be as efficient as possible, commercial fitouts are being built in a way so as to accommodate this. Architects and designers recognise the need to develop new ways to create efficient work spaces into the future.
As mentioned, the use of windows help natural light spread throughout the office. The use of more efficient lighting options, such as LED, is more or less a must for new commercial fit outs. Individual temperature and lighting control options are also becoming the norm, and shared offices are more common.
Prioritising Comfort

Physical comfort is hugely important in office spaces and with the emphasis on ergonomics and how to get the most out of employees, workers' comfort has become a consideration. We are seeing furniture design innovation become important to companies, as they supply ideal seating for working at a desk that enables employees to work for longer without developing soreness in the back or neck, for example.
Smaller Workspaces

This may at first seem to be at the expense of workers, but rather, having employees operate in smaller work areas can help increase productivity and has obvious efficiency benefits as have been discussed. However, this is not just applied to lower level employees, but also to those in high positions. Better technology had enabled managers to be able to work at more confined workstations, without the need to have an enormous office away from the other staff. In fact, collaborative work spaces are becoming more common and there is evidence to suggest that workers have the ability to mingle and chat from time to time can make them more productive.
If you're looking for an innovative commercial fitout option in Sydney, there are plenty of providers to offer you just that. Speak to Priority Coatings today for more information.
Leave a comment
Best Commercial Painting Company in Sydney