5 Ways You Can Save Money When Working With a Painting Contractor
30
Jul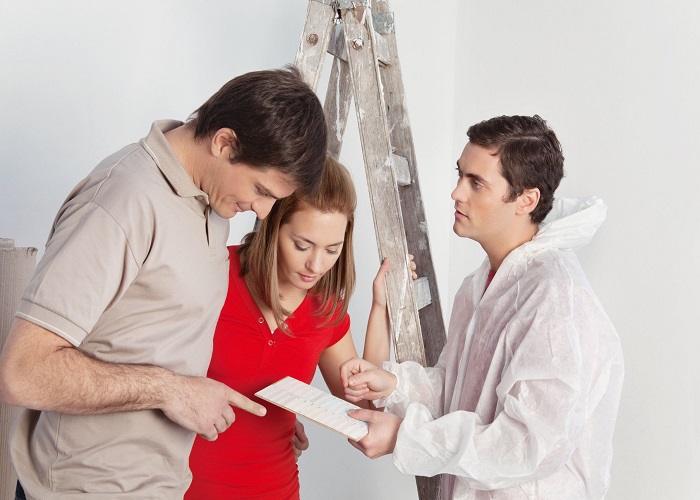 Like most trades services, there can be a big difference between providers. Some will be cheaper but perhaps provide a lower quality service, others will be pricey but are worth it if you have the budget. Others, unfortunately, strikeout in terms of quality and price, meaning you simply don't get what you pay for.
Also, if it's not done right at the beginning, you have to go through the scene to face that painting processing again in a short period of time. That overburdening painting and decorating activity will add nothing but an expensive headache to you. So choosing the right painting contractor with the right price is where your process begins.
And if you are conscious of your budget, there are certain things you can try to help you save on the bottom line.
Preparation
A big part of the painting is preparing the rooms, which does take up quite a bit of time. A poorly prepped paint job can be a waste of time and resources in many cases, so it's always important to carefully clean and make sure the surface is in a suitable state to have paint applied to it.
Often, the contractor will need to do some professional prep work regardless, but if you can handle some of it for them beforehand, you may find that you reduce your labour costs. Chat to the painter when they're quoting you and see if you can come to an agreement of some kind. If for example you are working with a paint maintenance provider on a monthly basis and you have a cleaner that is keeping the surface in the best possible condition all year around, the painter may not need to spend as much time prepping, thereby cutting their costs.
Don't wait that long to repaint your space
Refreshing and updating your homes and businesses is necessary. Being exposed to the extreme weather cycle, the paint of your house get ruined. The weather keeps contributing to the damage by putting your place under the blistering exposure of sunlight, humidity, storm, blowing sand, rain etc.
Don't wait until you find peeling, chalking or blistering paint. Try to repaint every 7-8 years because when the surface remains in good condition, you may have to go for one coat instead of two. Even to prepare the surface for coating and painting, you need extra time plus extra cost if the surface is damaged hard. Meanwhile, if your surface is in good condition, you will take less time, saving a chunk of money that you can utilise in buying your new décor items instead of giving those to your paint contractor.
Providing paint and/or equipment
Again, this will depend on the kind of painting contractor you're working with. You'll find that some are particularly flexible ongoing commercial work if you are able to provide some of the tools, paints and primers. Painters will often charge a little more for sourcing this equipment and if you're saving them time you may be able to get the same work at a slightly lower rate. Keep in mind if you're working with a sole trader or smaller company, you may have more leverage in this discussion if they need to go out of their way to provide you with the equipment needed for the job.
On the other hand, some painters simply won't commit to a job unless they're painting with their own equipment and paint, mainly due to the warranty. Ultimately, it just comes down to being honest and talking it through with your provider.
Communicate and seek recommendation
Always find out recommended painters from your near ones when preparing to renovate your home or business painting project. Think and get multiple estimates before finalising the painting contractor. This stresses how important it is to do your homework. Research painting contractors in Sydney online. Like Priority One Coatings, a known commercial painter in Sydney, includes all their recent work portfolio on their website. You can also check out other projects, ask for referrals, chat to their past clients and ask for their professionalism, work and cleanliness. What awards has the company received? How long have they been in business?
Looking at the customer reviews and testimonials and communicating with the representatives can also work to find whether there is any referral bonus or seasonal and other discounts that might not have listed online.
Choose carefully
Particularly when it comes to commercial and strata painting projects, the best advice anyone can give you when it comes to saving money is ultimately to find a quality painter that's going to get the job done better than anyone else. Often, this will cost you more as an initial investment, but when you look ten years down the road, it's almost always the case that you would've spent less overall in upkeep.
Speak and communicate with the painting contractor while determining the price. Take a clear idea about the processing, know the steps in detail, and the name of the products to ensure a transparent costing list with no hidden additional charges. Finally, if possible, go for a written agreement.
At the end of the day, saving money is about finding value. If you're looking for long term value for money, then prioritising quality over all else should be your number one concern.
These considerations can help you save money in the long run when you're searching for a commercial painting contractor. It's also worth checking with friends and similar businesses to yours for referrals, which are often the way good value for money painters find work. For more information or to speak to a commercial painter you can trust, get in touch with Sydney's Priority Coatings today.
Best Commercial Painting Company in Sydney