The Future of the Commercial Office Fit Out
29
May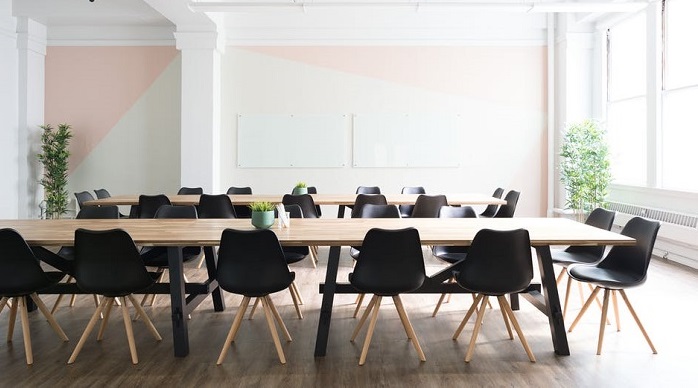 As most interior decorators will tell you, the commercial space that people work in can have a considerable effect on productivity. Employers are starting to recognise this and are more aware of decorative options than ever before. If you look at the offices of some of the biggest companies in the world, you'll see what we mean! Technological developments are changing our office and commercial workspaces, whether that be in terms of decorative features or the layout of the office itself.
In this article, we're having a look at some commercial fit out trends that are becoming popular in 2017 and beyond.
Use of Glass and Windows

An important trend that has been gaining traction over the past year or so is transparency in the office setting and the use of glass and windows to divide rooms. There are genuine benefits that come from the use of large windows, as they open the room up to a more natural light, which reduces the need for artificial lighting and makes the office more energy efficient. Using glass walls or windows to divide rooms enables any natural light to travel further and gives the office space light, breezy and relaxed feel that is quite proving quite popular. It also creates a collaborative atmosphere and connects workers.
Energy Efficiency

As it is becoming more important to consider energy and the need to be as efficient as possible, commercial fitouts are being built in a way so as to accommodate this. Architects and designers recognise the need to develop new ways to create efficient workspaces in the future.
As mentioned, the use of windows helps natural light spread throughout the office. The use of more efficient lighting options, such as LED, is more or less a must for new commercial fit outs. Individual temperature and lighting control options are also becoming the norm, and shared offices are more common.
Prioritising Comfort

Physical comfort is hugely important in office spaces and with the emphasis on ergonomics and how to get the most out of employees, workers' comfort has become a consideration. We are seeing furniture design innovation become important to companies, as they supply ideal seating for working at a desk that enables employees to work for longer without developing soreness in the back or neck, for example.
Smaller Workspaces

This may at first seem to be at the expense of workers, but rather, having employees operate in smaller work areas can help increase productivity and has obvious efficiency benefits as have been discussed. However, this is not just applied to lower-level employees, but also to those in high positions. Better technology had enabled managers to be able to work at more confined workstations, without the need to have an enormous office away from the other staff. In fact, collaborative workspaces are becoming more common and there is evidence to suggest that workers have the ability to mingle and chat from time to time can make them more productive.
If you're looking for an innovative commercial  fit out company Sydney, there are plenty of providers to offer you just that. Speak to Priority Coatings today for more information.
Best Commercial Painting Company in Sydney